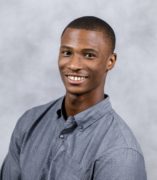 Fred-Ritchel Balthazar, Balthazar
Peer Success Coach
About
Major:  Marketing
College:  Business Administration.
What do you like most about being a Peer Success Coach?  What I like most about being a Peer Success Coach is that I get to help students develop their problem solving skills and get the most out of their college experience. There are many things about college that may be difficult for new students and it helps to have a resource that will guide you through those struggles. As a Peer Success Coach, I have the honor to be that resource.
Hobbies/interests:  I typically love anything that keeps the body active. My favorite physical activities are calisthenics and weightlifting. I am also an artist. I appreciate all forms of art but I work mostly on fine art and my goal is to be a photo-realistic artist. I try to be well rounded with the types of mediums I work with, however, I work best with graphite and charcoal.